Residential Electrician
24/7 electricians on call and ready to help with all your home electrical needs.
24-hour electricians
and electrical installation services
Trusted Residential Electricians
in Denver
Piper Electric has been offering quality residential electrical services since 1983. Through incredible knowledge and attentive customer service, our team of licensed Denver electricians will help with any electrical need, big or small. From new residential electrical installation to 24-hour electrical repair and maintenance, you can trust that the safety of your family is in good hands and know the job was done correctly.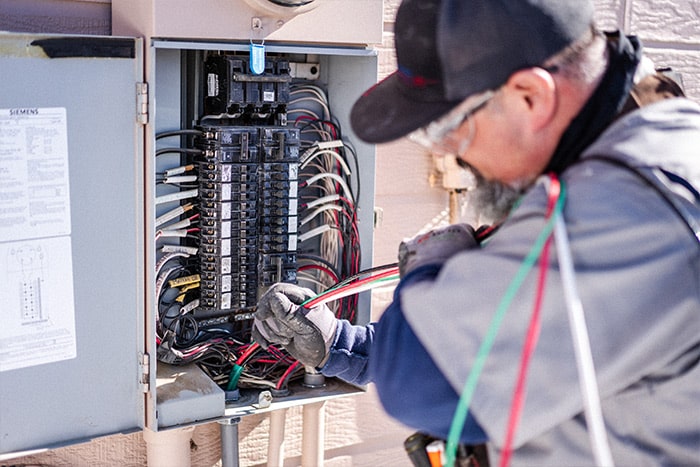 Your Safety is Our Priority
24-Hour Electrical Services
Facing an electrical malfunction in your home can be very inconvenient and downright dangerous. That's why our 24/7 emergency residential electricians are available to help around the clock. At Piper Electric, we don't take any chances when it comes to ensuring the safety of you and your family. Give us a call anytime at (303) 422-9219.
24/7 EMERGENCY ELECTRICIANS IN DENVER
WHAT WE DO
EV Charging Stations
Residential Repair Services
Electric Service Upgrades
Home Remodels and Additions
Hot Tub and Spa Electrician
Ceiling Fan Installation
EV CHARGING STATIONS
Whether an electrical emergency occurs at a residential, commercial, or industrial location, Piper Electric will provide you with a prompt response and results you can count on—every time. Our licensed emergency electricians are the best of the best and will work quickly and efficiently to identify the problem and create an excellent, long-lasting solution.
RESIDENTIAL REPAIR SERVICES
Oftentimes, it can be challenging to pinpoint the problem area in your home's electrical system. That's where we come in. Our licensed residential electricians will troubleshoot and test your electrical system to quickly and efficiently get to the bottom of whatever electrical issue you may be facing.
ELECTRIC SERVICE UPGRADES
When making updates and additions to your home, its important to have a trusted electrician on your team. From basement finishes and new bathrooms, to updating the kitchen wiring or adding a new room, we'll take care of your residential electric needs. We can help with everything including panel upgrades, new wiring installations such as for home theaters or landscape lighting, adding a new circuit, and more.
HOME REMODELS AND ADDITIONS
When making updates and additions to your home, its important to have a trusted electrician on your team. From basement finishes and new bathrooms, to updating the kitchen wiring or adding a new room, we'll take care of your residential electric needs. We can help with everything including panel upgrades, new wiring installations such as for home theaters or landscape lighting, adding a new circuit, and more.
HOT TUB AND SPA ELECTRICIAN
Installing a new hot tub or spa requires specialized knowledge and the utmost of care. Electrical systems are inherently dangerous and adding water increases the risk. Our hot tub electricians in Denver provide top-notch hot tub wiring installation and repair. Call us for a free estimate.
CEILING FAN INSTALLATION
A ceiling fan is one of the most cost-effective ways to keep your home cool in summer and warm in winter. Installing a ceiling fan safely is always our number one priority. Our Denver residential electricians will run the wires, hook up any switches, and install the ceiling fan according to the manufacturer's specifications.
Additional services
New Circuits
Security Lighting
Home Electrical Inspections and Evaluations
Security Lighting
TVSS (Surge Suppression)
Swimming Pool Power Installation
New AC and Swamp Cooler Circuits
Patio Enclosure Wiring
Landscape Lighting
Christmas Lighting
Lighting Upgrades
Decorative Lighting
See Why We're Denver's Best Electrician
What Our Customers Are Saying
Helping Customers Across Colorado's Front Range
Areas We Serve
Arvada
Colorado Springs
Lakewood
Aurora
Denver
Littleton
Boulder
Englewood
Lowry
Brighton
Fort Collins
Parker
Broomfield
Golden
Stapleton
Castle Rock
Greenwood Village
Westminster
Centennial
Highlands Ranch
Wheat Ridge
Frequently Asked Questions
When should I call an electrician?
Many residential and commercial property owners think of calling an electrician only when they're constructing something new. However, if you need any kind of electrical repairs at your property, we always recommend hiring an electrician rather than attempting to fix it yourself.
Doing electrical work by yourself can be dangerous and can result in costlier repairs down the line. How much risk are you willing to take to save a few dollars?
How much does it cost to install a car charger at my home?
Installing an electric vehicle charger at your home or business can be costly. Cost really depends on the distance between the charging location and your panel, if you have enough room in your panel, what type of charger you are wanting, and more. Each project is unique, which is why we offer free estimates from one of our highly experienced estimators.
Do you pull permits?
Yes, in most cases we take care of the whole permitting process to elevate stress for the customer. Permitting ensures that everything is up to code and reduces potential hazards.
How do I know when to change out my smoke detector or batteries in my smoke detector?
If you have a hard-wired smoke detector without batteries, you need to replace the device every 5-7 years. If your smoke detector has batteries it is recommended that every time you change your clock, "Spring Forward, Fall Back" you change your smoke detector batteries.
Do you provide free estimates?
Yes, we are happy to provide free estimates on any installation service. Unfortunately, we cannot provide a free estimate on troubleshooting or repair services because it takes not only time, but trial and error for our technicians to determine the problem. It could be a loose connection (an easy fix, once we find it), or it may involve replacing something (once we find it).
Contact us today to get your free estimate on any installation service.
Do you repair appliances?
We will provide power to the appliance, but we do not repair appliances.
Why are my lights flickering?
There can be various reasons why your lights are flickering. When they are flickering continuously it's often a sign that something is seriously wrong with your home electrical system. You can learn more by reading our blog post.
Do you charge a trip fee?
We do not charge a trip fee to a place of residence. Our commercial customers are charged from the time our technician is en route to your place of business.
How tall of ceilings will you work on?
We work on ceilings up to 18 feet. If the ceiling is more than 18 feet the customer will need to rent scaffolding for our technicians to complete the work. We can rent scaffolding, but it's cheaper for the customer to do it.
Are your technicians licensed and insured?
Yes, all of our technicians are licensed and insured. Before being hired at Piper Electric our technicians must also pass a background check and drug test.
My house has aluminum wiring. Do I need to rewire my whole house?
No. There are several UL listed ways to repair or re-terminate aluminum wiring: Copalum crimp, purple wire nut, and Alumiconn mechanical. All vary in price, are UL listed applications and NEC approved. This type of work should only be done by a certified electrician.
My house does not have grounded outlets. Do I need to rewire my house?
No, in homes prior to 1960 it was quite common to only have a 2 wire system. The NEC allows the installation of GFCI outlets either at the first outlet of the circuit or at every outlet, but they must be labeled "undergrounded receptacle."
Is a surge suppressor a waste of money?
It can be if you purchase a cheap one. There are many TVSS's (Transient Voltage Surge Suppressors) available that offer different degrees of protection. For your information, a TVSS does not replace a lightning protection system. To ensure you are protected, have a competent electrical contractor look at your system.
Ready to Get Started?
Our talented team of Denver electricians are ready to help with whatever residential electric service project you have. Please provide your information below and one of our team members will reach out to you shortly.
5550 W 60th Ave, Arvada, Colorado 80003