Preconstruction Design-Build Electricians
From planning to installation, you can rely on our Denver commercial electricians to deliver excellence at every step.
Decades of Experience
Preconstruction and Design-Build Electrical Contractors
Piper Electric has been offering quality preconstruction and design-build electrical services to our customers since 1983. Through incredible knowledge and attentive customer service, our team of licensed Denver electricians will help with any electrical need, big or small. If you're looking for an electrician with extensive experience in preconstruction and design-build projects, our electric contractors will provide you with what you need to get the job done in a hassle-free, efficient, and cost-effective manner.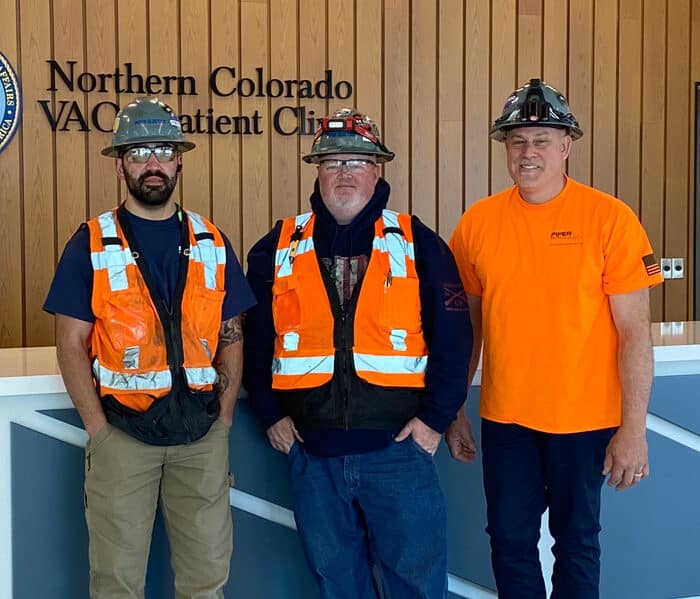 Your Safety is Our Priority
Our Emergency Commercial Electricians are On Call 24/7
At Piper Electric, we don't take any chances when it comes to ensuring your team's safety and the safety of your clients. Our team of commercial electricians are available 24-hours a day to address any electrical emergencies. You can feel confident knowing that you have a reliable electrician partner with Piper Electric. Give us a call anytime at (303) 422-9219.
RELIABLE ELECTRICAL CONTRACTORS
WHAT WE DO
Design-Build Services
Design-Assist Services
Electrical Budgeting and Estimating Services
DESIGN-BUILD SERVICES
Our design-build electricians have developed electrical systems for commercial and residential projects both small and large. We'll create electrical designs that are tailored to your project goals. Not only that, but our transparent design-build approach allows easy communication with our clients, general contractors, and other interested parties—nothing will fall through the cracks on our watch.
DESIGN-ASSIST SERVICES
Our seasoned, in-house construction electricians will work side-by-side with your architects, project managers, general contractors, and anyone else working on the project to seamlessly integrate our custom electrical solutions into your construction project.
ELECTRICAL BUDGETING AND ESTIMATING SERVICES
If there's one thing every new construction electrical project has in common, it's the importance of staying on-budget. We provide accurate estimates and realistic expectations for each stage of the project, from preconstruction to post-construction. No matter how complex the project is, our Denver electrical contractors are experienced in creating detailed budgeting plans, constructability analyses, and cost-benefit analyses to ensure your construction project stays on track from start to finish.
Additional Services
Constructability reviews
Value engineering
Project scheduling
Prefabrication plan
Advanced material and equipment purchasing
Capital improvement budgets
Collaborative design process
Technology solutions
Post-construction services
See Why We're Denver's Best Electrician
What Our Customers Are Saying
Frequently Asked Questions
Are you able to provide Design and Build services?
Yes. Since 1983 we have provided in-house design and build services for our commercial, industrial, and residential community.
Are you able to provide electrical budgeting? 
Yes. From schematic design, and design development, to construction documents we can assist with all your budgeting needs.
Can you provide design-assist services?
Yes. We have several partners in the construction community that we provide design-assist services to. Because of our outstanding design and build services and electrical budgeting services we are able to adapt and provide exceptional value to any design-assist project.
Can you provide engineering services without actually doing the electrical construction? 
No, unfortunately, because we are a design and build electrical contracting firm our policy and insurance requirements only allow us to provide electrical contracting along with our design services.
Helping Customers Across Colorado's Front Range
Areas We Serve
Arvada
Colorado Springs
Lakewood
Aurora
Denver
Littleton
Boulder
Englewood
Lowry
Brighton
Fort Collins
Parker
Broomfield
Golden
Stapleton
Castle Rock
Greenwood Village
Westminster
Centennial
Highlands Ranch
Wheat Ridge
Ready to Get Started?
Our talented team of Denver electricians are ready to help with whatever preconstruction and design-build project you have. Please provide your information below and one of our team members will reach out to you shortly.
5550 W 60th Ave, Arvada, Colorado 80003