24/7 Electrical Service and Maintenance
Our 24-hour electricians have the expertise and experience needed to handle any maintenance request. Call (303) 422-9219 now if you are having an electrical emergency.
Reliable Denver Electricians on Call
24-Hour Emergency Electrical Service & Maintenance
Piper Electric has been offering quality 24/7 electrical maintenance services for our residential, commercial, industrial, and oil and gas customers since 1983. Through incredible knowledge and attentive customer service, our team of licensed 24-hour Denver electricians will help with any electrical need, big or small. From emergency electrical services to routine electrical maintenance needs and even power quality monitoring, our team will go above and beyond to get your electrical system back in working order in no time.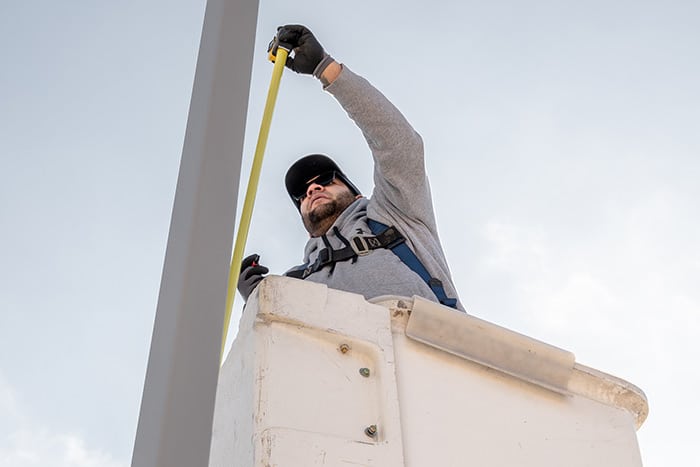 Electricians When You Need Them 24/7
When you notice that you have an electrical issue on your hands, there's no time to waste when it comes to calling for help. Even the smallest electrical issue could be catastrophic if left unattended. We always have skilled Denver emergency electricians available 24/7 to ensure that no matter the time or day, your electrical emergency is handled with efficiency, precision, and care. If you're in need of emergency electrical service, leave it to the pros—give us a call at (303) 422-9219 and we'll be on our way as soon as possible.
24/7 EMERGENCY ELECTRICIANS IN DENVER
WHAT WE DO
24/7 Emergency Service
Preventative Maintenance
Lighting and Service Agreements
Power Quality Monitoring
24/7 EMERGENCY SERVICE
Whether an electrical emergency occurs at a residential, commercial, or industrial location, Piper Electric will provide you with a prompt response and results you can count on—every time. Our licensed emergency electricians are the best of the best and will work quickly and efficiently to identify the problem and create an excellent, long-lasting solution.
PREVENTATIVE MAINTENANCE
Regular preventative maintenance is a crucial step to the upkeep of any home or commercial building. When you have routine electrical service completed, our skilled Denver electricians will help preserve the life of your electrical wiring, as well avoid costly repairs down the road. In addition, routine service is a great way to maintain your home or commercial building's overall safety. Certain failures in your electrical systems can cause dangerous sparking and even start a fire, which would not only damage your property, but would put your family, customers, or employees in harm's way. Be proactive about keeping your home or business in tip top shape–schedule an electrical preventative maintenance appointment with our Denver electricians.
LIGHTING AND SERVICE AGREEMENTS
The best way to ensure your lighting and electrical systems maintenance is always in working order is to have a Piper Electric service agreement. Save time, money, and frustration by engaging in a monthly lighting and service agreement without a long-term commitment. Piper Electric will proactively monitor and service your electrical systems to reduce downtime and avoid large preventable repairs. For a fixed monthly fee, we'll maintain and repair your electrical systems as well as providing 24-hour emergency service.
POWER QUALITY MONITORING
If your home or your business experiences a dip or a spike in power, your overall efficiency suffers, and you run the risk of several other problems arising, such as outages. Our 24/7 electricians tackle this issue directly by implementing power quality monitoring. Power quality monitoring is a way for us to gather and analyze electricity data in order to discover any hidden electrical system issues that may be hindering your home or business from operating efficiently.
Additional services
Indoor/outdoor LED lighting retrofits and upgrades
Lighting controls and automation
Repair, replace, or relocation
Temporary power hookup
See Why We're Denver's Best Electrician
What Our Customers Are Saying
Frequently Asked Questions
What is considered an electrical emergency?
Isolated power outages to only your home (not your neighborhood) would require an electrical emergency assessment. Other electrical emergencies include, an outlet emitting a burning odor, a hot service panel, flickering lights, smoke from an electrical outlet, or a noisy breaker box.
Who do I call when I have an electrical emergency?
Call our main office, 303-422-9219. If it is after-hours the phone will prompt you and connect you to our on-call technician.
How fast will someone be able to get to my emergency?
Depending on the availability of the on-call technician and the distance between the customer's home and the technician's home would dictate the timing. When you call one of our on-call technicians, they will be able to provide an estimated time of arrival. Typically, it is estimated 1-2 hours to get on-site from the time the customer calls.
How often should I get my home electrical system inspected? 
Residential panels should be inspected every 5 years by a licensed electrician.
How often should I get my business' electrical system inspected?
Commercial panels should be inspected every 5 years by a licensed electrician. At Piper Electric we offer Service Agreements that guarantee rates for a period of time. Our team will proactively monitor and service your electrical systems, giving you peace of mind.
Why are my lights flickering? 
There can be various reasons why your lights are flickering. When they are flickering continuously it's often a sign that something is seriously wrong with your home electrical system. If your lights are flickering, call us today to get an electrical inspection, 303-422-9219.
You can learn more by reading our blog.
How do I reset a breaker? Or a GFCI outlet?
To reset a breaker, turn the breaker to the off position, give it a couple of seconds, then turn the breaker handle back to the on position. To reset a GFCI outlet, push the reset button on the GFI device.
What should I do if I smell burning or smoke from an outlet or appliance?
As soon as you detect the smell or signs of burning, switch off the relevant outlet and unplug the appliance and any associated power boards. Then, call a 24-hour electrician to carry out a complete diagnosis of your home or your business's electrical system.
What should I do if I hear humming or buzzing sounds?
Contact our 24/7 emergency on-call service to have a licensed electrician investigate these issues. This could be a larger issue that presents safety concerns that a homeowner should avoid.
Providing 24-Hour Electrical Service
Across Colorado's Front Range
Areas We Serve
Arvada
Colorado Springs
Lakewood
Aurora
Denver
Littleton
Boulder
Englewood
Lowry
Brighton
Fort Collins
Parker
Broomfield
Golden
Stapleton
Castle Rock
Greenwood Village
Westminster
Centennial
Highlands Ranch
Wheat Ridge
Ready to Get Started?
Our talented team of Denver electricians are ready to help with whatever electrical maintenance or emergency electrical service project you have. Please provide your information below and one of our team members will reach out to you shortly.
5550 W 60th Ave, Arvada, Colorado 80003