Industrial, Plant, and Facilities
Quality electrical installation and 24/7 maintenance to keep your operations running smoothly.
Quality You Can Trust
Trusted Industrial Electricians in Denver
Piper Electric has been offering quality industrial, plant, and facilities electrical services since 1983. Our electricians understand the complexity and sophistication of these types of electrical systems. From design and installation to making upgrades, troubleshooting issues, making repairs, and performing ongoing maintenance, our electricians have the skill and knowhow to service industrial complexes. Through incredible knowledge and attentive customer service, our team of licensed Denver electricians will help with any industrial, plant, and facilities electrical need, big or small.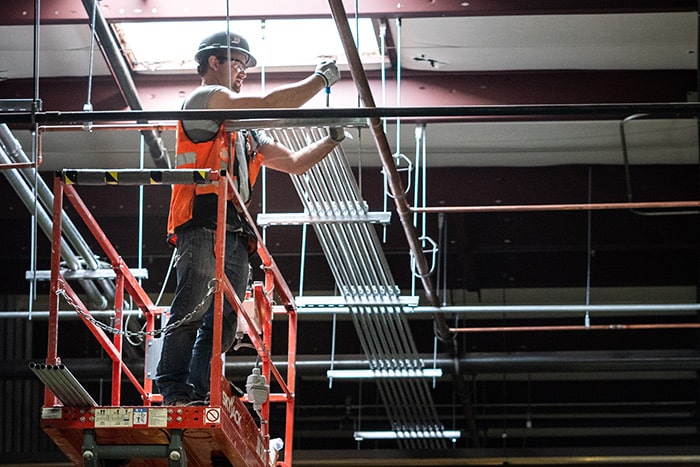 Your Safety is Our Priority
24-Hour Electrical Services
An electrical malfunction or inefficiency at your facility can be inconvenient, dangerous, and create a loss of revenue. That's why our 24/7 emergency electricians are available to help around the clock. At Piper Electric, we don't take any chances when it comes to ensuring the safety of your team and the success of your operations. Give us a call anytime at
(303) 422-9219.
FACILITIES MAINTENANCE ELECTRICIANS
WHAT WE DO
Oil & Gas
Food and Beverage Manufacturing
Industrial Manufacturing
Biopharma
OIL & GAS
Piper Electric will help with all your oil and gas electrical needs including one-line distribution, motor controls, underground wireways, heat trace systems and automation and instrumentation.
Food and Beverage Manufacturing
Food and beverage manufacturing and production have complex automation processes that require specialized electrical expertise. Not only do these facilities face tight regulations to uphold food safety, cleanliness, and best practices, but they use a lot of electricity to power machines and equipment. We understand how heavily these facilities depend on a steady power flow to maintain their rigorous production schedule. Our top-of-the-line facilities electricians are specifically trained to provide the most efficient and effective solutions to help you and your facility with design, installation, and 24/7 maintenance services including motor maintenance, emergency repairs, and more.
INDUSTRIAL MANUFACTURING
Our team of electricians understand the complexities and specialization of industrial manufacturing facilities. We have significant experience designing, installing, and maintaining custom electrical systems for industrial manufacturing facilities. This includes safety equipment, automated systems, lighting, and back-up power systems.
BIOPHARMA
When it comes to biotech and pharmaceutical facilities, we know how important it is to ensure that manufacturing lines are up to specifications and running smoothly. Our Denver electricians have the specialized knowledge to design, install, and maintain biopharma facilities. We have experience building electrical systems for research and development facilities as well as manufacturing facilities.
Additional services
Pharmaceutical
Water & Waste Treatment Plants
Safety Equipment Upgrades
CBD Manufacturing
Hazardous Location Installs
Preventative Maintenance
Power Quality and Load Studies
Electrical Distribution Upgrades
Back-up power systems
Access Control Systems
Medium Voltage
Infrared Scanning
Design Build and Design Assist
Coordination Studies (NFPA 90E)
Lighting Up Grades
Lighting Control Systems
Process Skids
PLC and VFD Installations
Conveyor Installations
Packaging Installation
Process Controls
Decorative Lighting
See Why We're Denver's Best Electrician
What Our Customers Are Saying
Frequently Asked Questions
What market segments do you specialize in?
We provide all electrical services for commercial, industrial, residential, and 24/7 service. Specifically, for our Industrial, Plant, and Facility department we specialize in food and beverage, oil and gas, pharmaceutical, industrial manufacturing, biopharmaceutical, and water and waste treatment plants.
Do you work with controls and low voltage?
Yes, we work with Delta-V systems, PLCs, automation systems, 24-volt DC controls systems, and more. For low voltage, we can provide service for ethernet and fiber optics.
If you have a specific question about your project, email us! info@piperelectric.com
Will I have a dedicated account manager?
Absolutely. As an industrial customer, you will be provided with a dedicated account manager who will facilitate every project step, beginning to end and beyond. Our team ensures you with peace of mind and the ability to focus on what matters, your business and employees.
 How do I submit a request for a bid proposal?
You can send your bids to info@piperelectric.com or submit a contact form HERE and one of our team members will get back to you shortly.
Do you provide design and design-assist services?
Yes! We have a seasoned, in-house team of electricians who will work side-by-side with your architects, project managers, and anyone else working on the project to seamlessly integrate our electrical solutions into your industrial project.
What is your service range?
What is your safety program for industrial facilities?
All Piper employees go through Safeland training before jobsite assignment. They also go through thorough drug screening and follow strict guidelines on hazard assessment, mitigation, and client requirements. For more information check out our safety initiative.
Helping Customers Across Colorado's Front Range
Areas We Serve
Arvada
Colorado Springs
Lakewood
Aurora
Denver
Littleton
Boulder
Englewood
Lowry
Brighton
Fort Collins
Parker
Broomfield
Golden
Stapleton
Castle Rock
Greenwood Village
Westminster
Centennial
Highlands Ranch
Wheat Ridge
Ready to Get Started?
Our talented team of Denver industrial electricians are ready to help with whatever plant or facilities electrical project you have. Please provide your information below and one of our team members will reach out to you shortly.
5550 W 60th Ave, Arvada, Colorado 80003