Oil & Gas Electrical Services
Electrical solutions and maintenance tailored to the needs of oil and gas companies.
Safe, Efficient, and Effective Electrical Contractors
Experienced Oil and Gas Electricians
Piper Electric has been offering quality oil and gas electrical services since 1983. Through incredible knowledge and attentive customer service, our team of licensed Denver oil and gas electricians will help with any electrical need, big or small. From underground wireways to heat trace systems, you can rest assured that our skilled oil and gas electricians will safely, efficiently, and effectively deliver outstanding results.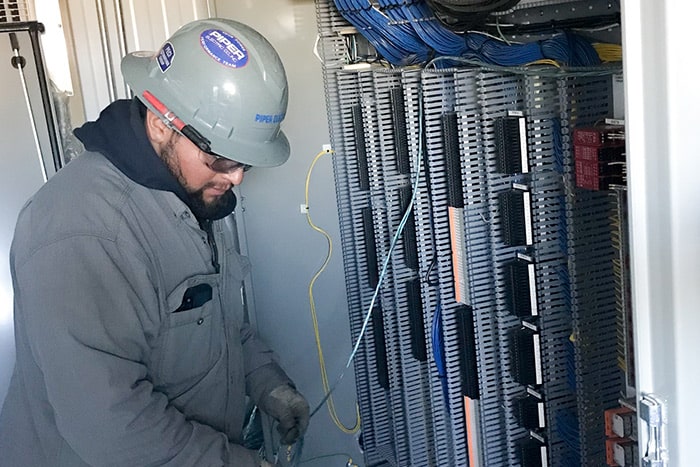 Your Safety is Our Priority
24-Hour Electrical Services
Facing an electrical malfunction at a jobsite can be very inconvenient and downright dangerous. That's why our 24/7 emergency electricians are available to help around the clock. At Piper Electric, we don't take any chances when it comes to your safety. Give us a call anytime at (303) 422-9219.
PREMIER DENVER OIL AND GAS ELECTRICIANS
WHAT WE DO
One-Line Distribution
Motor Controls
Wireways
Heat Trace Systems
Automation and Instrumentation
ONE-LINE DISTRIBUTION
Piper Electric offers an expansive range of power distribution solutions that have been proven to help bring a steady stream of power to and throughout your facilities. Whether it's a permanent service, or a temporary power solution, our electrical contractors are happy to provide our services to supply and install your switchgear, transformers, UPS and battery backup systems, generators and transfer switches, and more.
MOTOR CONTROLS
When it comes to ensuring the safety and longevity or your property's motors, Piper Electric has you covered. We have a wide variety of options that can help control speed, automated start-and-stop functions, and start-up protection for your motors to ensure safety and equipment longevity. Everything from VFDs to soft-starts and relay logic to PLC, we're happy to help size, design, source, and install any of your motor control needs.
WIREWAYS
Whether its underground or overhead, our licensed electrical contractors can handle an array of installation services to help get your wire from here to there. Everything from cable tray to wire duct and from rigid conduit to cable assemblies, our knowledgeable team will help design, source, and install the best solution for your present and future needs.
HEAT TRACE SYSTEMS
It's no secret that Colorado winters can be really cold! Our electrical contractors offer multiple heat trace solutions to keep your pipes, tanks, and vessels flowing freely. We're happy to offer new system design and installation services, retrofits and additions to existing systems, and temporary solutions to keep your facilities running.
AUTOMATION AND INSTRUMENTATION
Site automation provides a long list of benefits to take your facility to the next level. Whether you are adding interlocks for life safety or automating a valve for cost savings, we are proud to offer design, sourcing, and installation services to get your equipment working for you. We also provide spanning and addressing services to get your devices and system functions running smoothly and accurately.
Additional services
Fiber optics and Ethernet Terminations and Testing
Data entry and documentation
As-built and red-line drawing
Megger readings
Torque logs
24 Hour Emergency Electrical Services
Electrical troubleshooting services
Preventative maintenance
Load monitoring
Infrared Thermography
Re-torque services
See Why We're Denver's Best Electrician
What Our Customers Are Saying
Frequently Asked Questions
Do you do work outside of oil and gas?
Yes, absolutely! We provide all electrical services for commercial, industrial, residential, and 24/7 service.
Do you work on automation, motor controls, one-line distribution, wireways, and heat trace systems?
Yes! Our oil and gas electricians are specialized in the oil and gas market. They are well-equipped to handle any electrical service within oil and gas. Piper Electric has been serving oil and gas companies since 1983.
Will I have a dedicated account manager?
Absolutely. As an oil and gas customer, you will be provided with a dedicated account manager who will facilitate every project step, beginning to end and beyond. Giving you peace of mind and the ability to focus on what matters.
 How do I submit a request for a bid proposal?
You can send your bids to info@piperelectric.com or submit a contact form HERE and one of our team members will get back to you shortly.
What type of energy work do you do?
Our specialized team of oil and gas electricians manage compressor stations, build and maintain well pads and tank battery facilities, as well as midstream stations.
What is your service range?
All of Colorado and parts of Wyoming.
What is your safety program for oil and gas?
All Piper employees go through Safeland training before jobsite assignment. They also go through thorough drug screening and follow strict guidelines on hazard assessment, mitigation, and client requirements. For more information check out our safety initiative.
Helping Customers Across Colorado's Front Range
Areas We Serve
Arvada
Colorado Springs
Lakewood
Aurora
Denver
Littleton
Boulder
Englewood
Lowry
Brighton
Fort Collins
Parker
Broomfield
Golden
Stapleton
Castle Rock
Greenwood Village
Westminster
Centennial
Highlands Ranch
Wheat Ridge
Ready to Get Started?
Our talented team of Denver electricians are ready to help with whatever oil and gas electric service project you have. Please provide your information below and one of our team members will reach out to you shortly.
5550 W 60th Ave, Arvada, Colorado 80003