Denver Electric Car Charger Installation
Professional installation of electric vehicle level 2 chargers for both homes and businesses.
Efficient & Communicative from the Beginning
Denver's Best EV Charging Installation
Piper Electric has been offering quality electrical installation services to our customers since 1983. Through incredible knowledge and attentive customer service, our team of licensed Denver electricians are ready to help you with your electric vehicle charger installation. From start to finish our talented electric contractors will get your EV charging installation completed safely, efficiently, and effectively.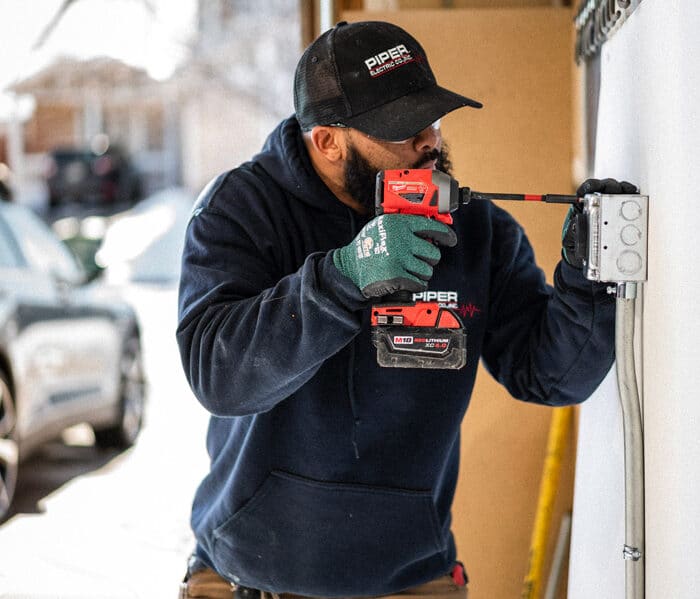 24/7 Electricians
Commercial and Residential EV Charging Installation
Regardless of your electric vehicle charging needs, Piper Electric technicians and account managers will be able to offer a variety of solutions after just a brief consultation. Our electricians are all certified professionals with years of experience working on residential and commercial electric vehicle installations. We bring a background of experience with all types of electric vehicle charging installations, and will be able to work with you to find the best EV charging solutions for your needs.
Three simple steps is all it takes to get your home or business ready for everyday EV use:
One of our electricians or account managers will consult with you to determine what electric vehicle charging solutions best suits your home or office, car type, and budget.
Infrastructure & Safety Inspection
We will check your electrical infrastructure, ensuring that everything is in place and up to code before proceeding with our installation. Safety is our top priority.
Quick & Easy Installation
Our electricians will provide you with a quick and easy EV charger installation based on your electric vehicle needs and budget.
DENVER EV CHARGING INSTALLATION
WHAT WE DO
Residential Electric Car Charger Installation
Commercial EV Charging Installation
RESIDENTIAL ELECTRIC CAR CHARGER INSTALLATION
For the majority of electric car owners, it all begins at home. Your house is where your EV or hybrid will spend most of its time. Even for short charging jobs on hybrid cars with gas engines, the benefits of having your own Level 2 (240 volt) electric car charger are incredible. Having a permanently installed Level 2 charger will cut your vehicle's charge time drastically over a standard 110-volt wall plug. We'll assess your home's electrical system and determine the best course of action to install an EV level 2 charger.
Commercial EV Charging Installation
If you're interested in providing electric car charging stations at your office or commercial property, our expert electricians are happy to help. We handle level 2 commercial electric vehicle charging station installations at commercial properties of any scale. Contact us and a qualified electrician will come out to your property to provide a commercial EV charging station installation estimate free of charge.
Electric Vehicle Installations:
Audi EV Charger
BMW EV Charger
Chevy EV Charger
Ford EV Charger
GM EV Charger
Hyundai EV Charger
Kia EV Charger
Lucid EV Charger
Nissan EV Charger
Polestar EV Charger
Tesla EV Charger
Rivian EV Charger
Volvo EV Charger
And more!
See Why We're Denver's Best Electrician
What Our Customers Are Saying
Frequently Asked Questions
How do I know what size circuit I need to install for my EV charging?
Contact Piper Electric to have one of our technicians or estimators come out to go over the options you have, and determine the best route for your situation.
Do I need to install the recommended Charging station or the NEMA 14-50 receptacle?
Contact Piper Electric to have one of our tecEach option has its own benefits. Either charging solution may be better suited for the customer and their current and future EV charging needs. Our technicians and account managers can better explain all charging options onsite with our free estimates. Our technicians or estimators come out to go over the options you have, and determine the best route for your situation.
Can I use my existing dryer receptacle in my laundry room to power my EV Charging circuit?
Electric Vehicle circuits are dedicated circuits and cannot be provided off of existing 220 circuits already in use. Piper Electric would not gain power from in use existing 220v circuits
Can Piper Electric provide a charging station for me?
Piper Electric would guide the customer to purchase their own charging station for installation. Account managers and technicians can provide guidance on the best option for charging during a free estimate consultation.
I have no breaker space left in my panel.  Can I still add an EV circuit?
This situation differs for all customers. Every application is different. You may have a large enough service but a lack of breaker space. Sub panels can be added to free up room for Electric Vehicle circuits. Some panels do not have the amperage capacity to handle these new loads. In those cases, Piper Electric would need to assess each situation with a free estimate to come up with a solution to add this new circuit.
How much does it cost to add an EV circuit to my home?
Every home presents different situations to add these new circuits. Piper Electric encourages customers to schedule a free inspection to go over each respective job and provide accurate pricing.
How do I charge my EV without this new circuit?
With current commodity and material shortages, Piper Electric recommends that customers look into adding these new circuits sooner rather than later. It is best to go over your current electrical situation to see if you have the capacity for a new 240v circuit. It is best to get ahead of the curve to add these circuits, rather than have to trickle charge your vehicle while you wait to get these new circuits added. All Electric Vehicles can be charged off of regular 120v receptacles, but the charging time takes over 25 hours to fully charge your vehicle. Don't wait to set up a free estimate with Piper Electric, give us a call today.
Helping Customers Across Colorado's Front Range
Areas We Serve
Arvada
Colorado Springs
Lakewood
Aurora
Denver
Littleton
Boulder
Englewood
Lowry
Brighton
Fort Collins
Parker
Broomfield
Golden
Stapleton
Castle Rock
Greenwood Village
Westminster
Centennial
Highlands Ranch
Wheat Ridge
Ready to Get Started?
Our talented team of Denver electricians are ready to help with whatever EV car charging installation service you need. Please provide your information below and one of our team members will reach out to you shortly.
5550 W 60th Ave, Arvada, Colorado 80003