Energy Management in a Commercial Setting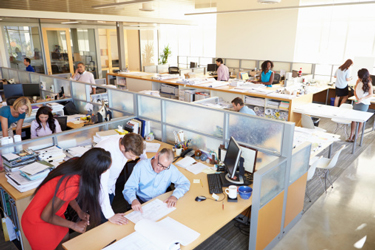 Just about everyone is looking for a way to cut down on energy costs and save their business money. Here are some ways to improve the energy efficiency in commercial buildings:
1. Use energy only when needed
It might seem like common sense, but most commercial buildings do not need to have their lights and air on at all times. If your building allows, and when it isn't being used, make sure the energy system is turned off.
2. Adjust the temperature according to the season
As the season changes, so should the temperature of the commercial building. To maintain a comfortable, energy-efficient temperature, set rooms to 75 degrees Fahrenheit in the summer months and 68 degrees Fahrenheit during the winter ones. Adjust rarely used spaces, like bathrooms, to 60 degrees Fahrenheit.
3. Maintain filters
It's important to remember to change the air filters in a commercial building to save energy. Paying attention to proper filter maintenance will help prevent wasting energy and overworking the equipment.
4. Use fans to circulate air
A room's temperature, air movement and humidity affect energy efficiency a great deal. Using fans can help reduce your business' need to turn up the air conditioner as the fan moves the air around the room.
5. Pay attention to the lighting
Not only does turning off the lights in areas that aren't being used decrease the energy consumption in a building, but replacing incandescent light bulbs with compact fluorescent light globes or even better yet LED or high efficiency fluorescent lamps can reduce the amount of heat in the room as well as save money.
Occupancy or vacancy sensors can also help reduce the time lights are on. These sensors adjust accordingly when there is no movement in a room, shutting off the lights. A full commercial Lighting Control System can keep your business from wasting energy through the monitoring of how light a room actually is and through daylight harvesting.
6. Purchase energy efficient office equipment
Being mindful of energy efficiency in commercial businesses means preventing energy waste in any way possible. Investing in energy efficient office electronics and equipment can lessen the amount of heat that's emitted from these appliances. Turning off the equipment completely can help reduce savings as well. Also purchasing equipment with features such as "energy saver" can help reduce energy use.
7. Avoid energy loss through windows
A large amount of heat is lost in the winter and gained in the summer through a building's windows. In order to reduce this energy inefficiency, a commercial building can double-glaze their windows, or purchase thermal window coverings, if allowed.
8. Insulate the building
As far as a long-term solution is concerned, insulating a commercial building can help lessen the amount of time and energy spent on cooling and heating systems. Insulating ceilings, walls, pipes and roof spaces can be incredibly useful. Energy efficient electricians can help.
Investing in great changes can help lessen the amount of energy spent in your commercial property. Hiring a Denver Electrician like Piper Electric can also make it easier to manage the energy consumed in your commercial building. Piper Electric offers many solutions for commercial / industrial buildings. We can install complex lighting control systems, make recommendation and more; visit the other pages on our website to find more information.