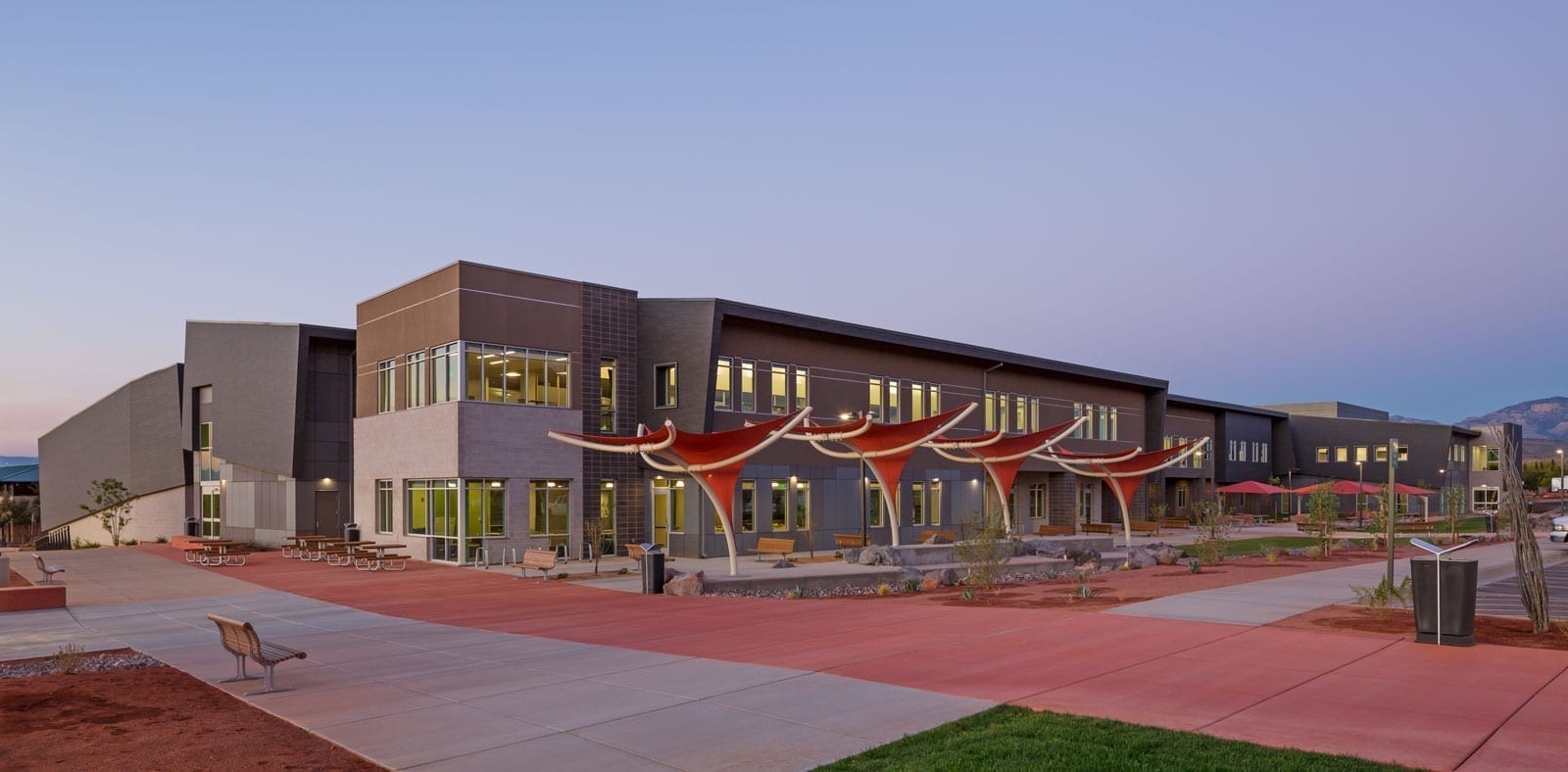 A Rock Solid Reputation of Safety and Quality
SINCE 1983
Commercial Electrician In Denver
Commercial buildings have their own unique set of electrical challenges. Offices, for example, must be well-lit, comfortable, secure, and, above all, reliably and consistently powered. When electrical problems arise in commercial settings, productivity and revenue could suffer, not to mention the time and money involved in repairs.
Piper Electric Co., Inc. (PECI) has a dedicated team of licensed electricians in Metro Denver that specialize in commercial electrical services. We understand the unique needs of businesses and all types of commercial facilities, which is why we will repair, install, or maintain your electrical systems at a time convenient for your business. We also provide a personal account manager to oversee the installation or repair of larger systems in the building and to ensure that our work is done on time and on budget. We work around your schedule to keep your normal business activities running smoothly.
PECI Can Do It All
Whether your office needs a new outlet installed or a full electrical system put into place, our commercial electricians will get the job done right the first time, every time. Here are some of the services we offer:
Building automation and energy management systems
Electrical engineering and design
Installation of life safety systems like fire alarms
HVAC electrical repairs
Audio/visual wiring for offices, conference rooms, or classrooms
Preventative maintenance
Troubleshooting
Elevator power upgrades and other service upgrades
Parking lot light installation, repair, or maintenance
And much more
Your top source for commercial electrical in Denver
Piper Electric sets your business office, retail outlet, industrial plant, or multi-family home up for success with our complete suite of general electrical services. We install, repair, and maintain all the electrical components your business uses to keep operations at an optimal level.
Since 1983, Piper Electric has provided advanced electrical design, installation, maintenance, and repair services for an extensive list of commercial clients. We're one of the Denvers most experienced companies for design-build electrical contracting, and have delivered comprehensive solutions for generations of commercial and industrial companies. Our combination of innovation, technology, responsiveness, and customer focus has kept Piper Electric the most trusted provider of commercial electrical in Denver.
General commercial electrical contractor services
Piper Electric oversees all the installation and operation of the electrical components and systems your office needs to maintain full functionality in the 21st century, including
Conference and meeting room electricity
Office electrical systems
Audio/video components
Device and system installation
Building automation
Emergency management systems
Wiring installation
Common Commercial Electrical Services
At Piper Electric, we offer a broad range of commercial services throughout the Denver area. Here are some of our most commonly requested services.
Commercial Lighting– When it comes to lighting your commercial property, you have to be concerned about providing enough illumination inside and out. At Piper Electric, we know how to balance all of the factors that go into creating the right lighting design for your property: Illumination levels, design, and budget.
We'll help you to come up with a design that will not only give you light where you need it, but will also help to enhance the visual appeal of your property. Our technicians are familiar with the latest and most efficient lighting technology, which means that you'll save money on energy usage without sacrificing brightness. We also offer retrofit services and lighting studies to make sure you get the lighting you need.
Why Piper Electric Co., Inc.?
We have a track record of superior commercial electrical service in Arvada and all over Denver that you can put confidence in. But we don't just rely on our record. There are a number of reasons that you should use Piper Electric Co., Inc. today for your commercial electrical services.
Superior Quality
We have had 27,000 straight service calls without an unresolved complaint. That's because our commercial electricians treat every electrical issue like it was their own. They will take the time to do the job right the first time and make sure that you are completely satisfied. All of our electricians are licensed, background checked, and highly skilled, so you can have assurance that your electrical needs will be met with quality and professionalism.
Commercial Safety Services
As a leading commercial electrician in Denver, we're committed to making sure your building is as safe as possible. These are just a few of the safety services we offer.

Fire Alarm and Warning Systems
Fire alarm systems in commercial properties are much more complex than those found in homes. They combine the best of smoke and carbon monoxide detection with heat and particulate sensors, which can detect even small amounts of smoke. We can install and maintain your alarm system, ensuring that it's ready to go when it's needed most.
Parking Lot Security and Lighting
Keeping your employees and tenants safe starts in the parking lot. We'll make sure that your facility has sufficient light. We can even help you to design and install a security video system.
Elevator Power
Modern elevators are safer than ever before, and that extends to electrical safety. If the power fails in your building, your elevator should have a backup generator power supply, which will provide fresh air for at least 90 minutes, alert the authorities, and in newer elevators, even gently lower you to the next floor.
Emergency Lighting
Emergency lighting systems are put in place to ensure that people inside of a building can find their way out in the event of a power failure. We'll identify where those lights need to go and make sure they get installed correctly.
Electronic Surveillance and Closed-Circuit Systems
Security is more important than ever before. We have experience in installing cameras and other forms of electronic surveillance, making sure that your property stays safe.
Surge Protection Systems-
Your building experiences surges every day. Even small surges can build up over time. With surge protection systems, your power flow will be better regulated, protecting your sensitive systems.
Service Upgrades-
As power needs increase, your building may need to increase its power supply, as well as your electrical panels, to handle the larger power loads. We can help.
Free Estimates
Many electrical companies in Denver charge a trip fee just to assess your needs. They may also use a flat-rate pricing system that can build in hidden fees and costs without taking into account your specific needs.  On the other hand, Piper Electric Co., Inc. gives free estimates to every client, no matter how large or small the project is. We also use a "time and materials" pricing method so you only pay for what you need. Our Arvada based commercial electricians will explain in detail what the job will take and exactly what you will be paying for before you pay a dime.
24-Hour Emergency Electrical Service
Electrical issues should never be taken lightly, which is why we offer a 24-hour emergency electrical service to all of our customers. If you notice anything unusual with your electric, give us a call. An experienced electrician is standing by to receive your call and arrange for a technician to reach you as soon as possible.
Benefits of having a commercial electrician in Denver
A professional, deeply experienced electrical contractor like Piper Electric is like having a dependable partner for your commercial business. We're invested in the success of all the local companies we serve and give our clients a significant advantage when they hire us:
Our crew works with your office to schedule installation and repairs that minimize disruption and downtime of your operations. We accommodate your business's normal routine and most productive times to get you up and running with little distraction.
Quality work. Piper Electric contractors use advanced technology, thorough methods, and quality control to ensure the best results of any commercial electrical contractor in Denver.
Service variety. Top electricians work with commercial services in all stages of their business, from construction and installation to operational management, maintenance, and repairs. Piper Electric has experts who provide the electrical service you need exactly when you need it.
Industrial Electricians
Industrial and commercial buildings often have specific electrical needs. For example, office buildings must be well-lit, secure, and comfortable. These buildings need consistent, reliable power that owners and employees can count on.
When these buildings lose power or experience electrical problems, things get costly fast. Electrical issues in an industrial facility can also harm productivity and revenue.
Our Licensed Commercial Electrical Contractors
Commercial properties have much more complicated circuitry, which is the reason why commercial electricians require so much more training. In a commercial property, several large and complex systems are typically integrated into one, including water heaters, HVAC systems, security and alarms, and more.
At Piper Electric, you can count on us to perform electrical repair, maintenance, or remodeling. You can trust our team to perform all work in compliance with commercial standards and public safety regulations.
Make Piper Your Commercial Electrical Contractor
You can rely on our 38 plus years of experience in providing quality installation, maintenance, and electrical repairs. At Piper Electric, our fully trained and licensed commercial electricians will provide you with superior customer service, while getting your electrical needs resolved quickly.
As a full-service contractor, we'll help you with all of your electrical projects. We'll make sure that you find the best, most cost-effective solutions to your electrical problems. Don't waste time on the Internet searching for "electrician commercial in Denver," or "electrical contractor commercial Denver." Call Piper Electric instead—we'll take care of you.
Contact the Premier Commercial Electrical Contractors in Denver
If you need help with your commercial electrical system, contact Piper Electric today for 24/7 emergency service or to schedule an appointment.