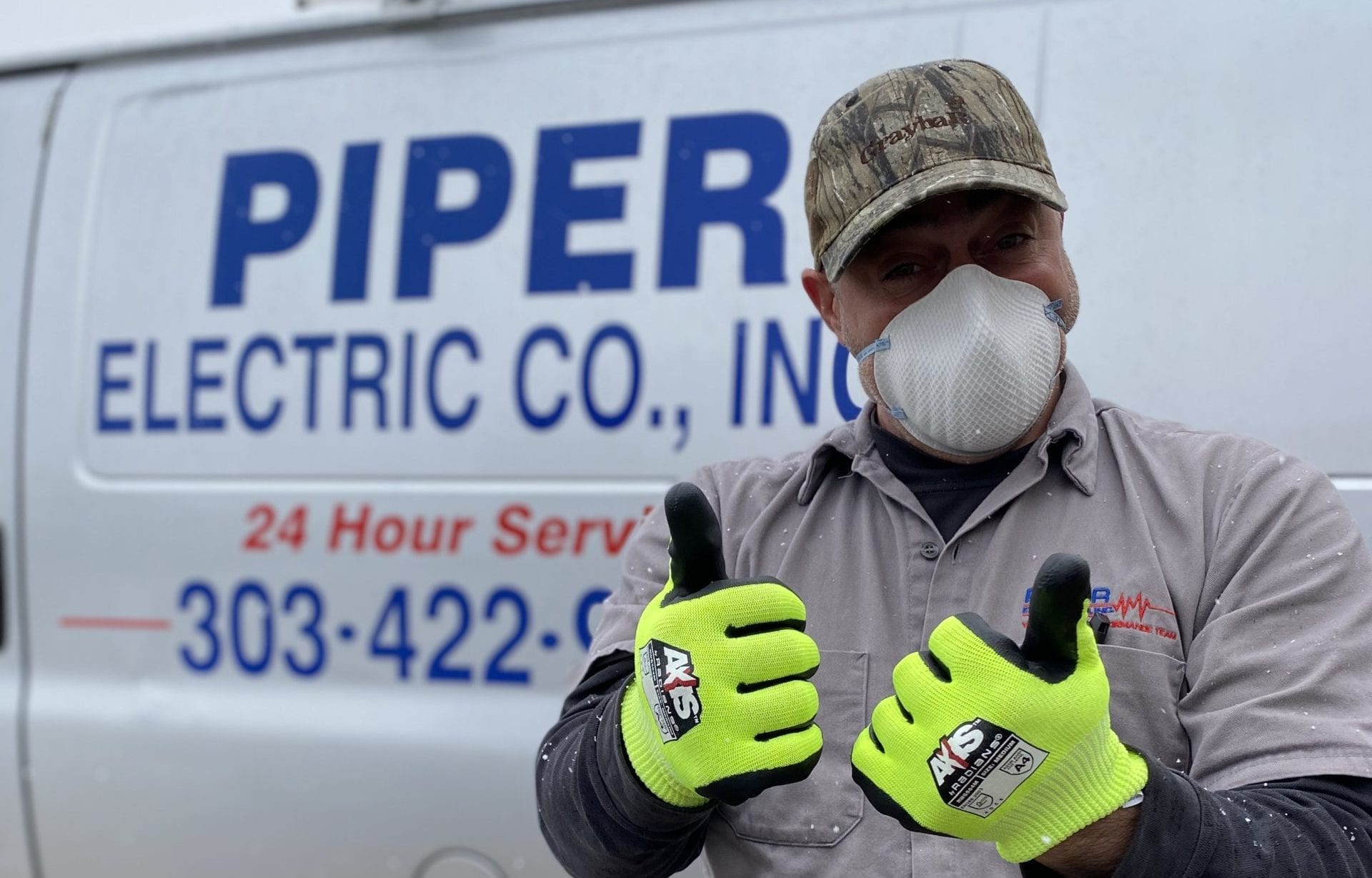 Piper Electric's COVID-19 Safety Requirements
COVID-19 Employee Safety Measures
Follow CDC guidelines and applicable state and local orders.

Perform the daily symptom self-check questionnaire distributed by our Safety Manager, Abby Green.  

Practice social distancing protocols in the office and field. 

Employees must frequently wash hands with soap for at least 20 seconds or use an alcohol-based hand sanitizer with at least 60% ethanol or 70% isopropanol. 

Avoid touching eyes, nose, and mouth with their hands. 

Wear appropriate face masks or face coverings when on site. 
When Working at Customer's Homes/Places of Business
Technicians are required to always wear Personal Protection Equipment (PPE).

Put on safety glasses, gloves, face masks, and booties before entering home/business.

At this time, no handshakes are allowed, and appropriate social distancing is required between employees and customers. 

Immediately dispose of booties and disinfect safety gloves and tools at the end of the service call. 

Follow all safety protocols of Piper Electric, as stated above, and those of the businesses we enter. 
Employee Requirements for Working
Free from flu-like and/or COVID symptoms (cough, shortness of breath or difficulty breathing, fever, chills, muscle pain, sore throat, the new loss of taste or smell).

No signs of a fever or a measured temperature above 100.3 degrees within the past 72 hours. 

Has not had "close contact" with an individual diagnosed with COVID-19 or exhibiting flu-like symptoms within the past 48 hours.

Has not been asked to self-isolate or quarantine by their doctor or a local public health official.

Has been cleared by a Medical Professional to return to the work site if any COVID-19 symptoms were experienced.