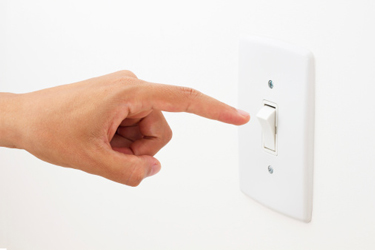 Aluminum wiring is common today and can be perfectly safe when installed and terminated correctly. The transmission lines passing overhead as you drive and those coming into your home are often aluminum, for example. But many older homes have wiring that was through time has become unsafe which can create a potential fire hazard. Keep an eye out for any warning signs that may indicate that your home has aluminum wiring issues.
Indicators of Aluminum Wiring Issues
There are a number of electrical red flags that could indicate an aluminum wiring problem. Make sure you call an electrician if you see:
Dimming or flickering lights. This is never normal and should always raise a red flag.
Discoloring of outlets or switches. Discoloring will generally indicate overheating, which could mean your aluminum wiring is not correctly terminated. Make sure to check all outlets in your home especially outlets behind appliances.
Buzzing switches. Buzzing (or arcing) should always be a concern.
Hot or warm switch plates. When installed and functioning properly, your light switches or plates should never feel noticeably warm. If so, they're pulling too much heat, this should always be a cause for concern.
Wiring Repair in Denver
If you notice any of these electrical issues, or if you have a home with aluminum wiring and want to ensure your home's safety,  give Piper Electric Co., Inc. a call today. At  Piper Electric Co., Inc., we have been doing wiring repair in Denver for over 31 years. Our team of licensed electricians will come to your home,  conduct a thorough inspection of your wiring systems, and give you a free estimate if repairs are needed.
While your wiring may not always be a problem,  if you notice anything out of the ordinary, give us a call today. As always, we give free estimates and have a certified electrician standing by 24 hours a day.